There were lots of people at the beach last week when we went for our first open water swim of the season but only two of them were in the water.
I don't know why though because even though the water felt sortof cold, it was certainly no where near the unbearable I felt last winter when my friend Melanie and I literally ran in and ran out of the water. That was freezing.
It was a great 1/2 mile swim and with my good buddy Leona pictured up top! Hooray!! Tri season is almost officially here!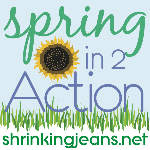 It's that time of week again, time to check in! And guess who checked in with me? A 1.5 pound loss checked in with me! Woot! The loss showed up this week! I'm so happy to see you, 1.5 pound loss! I was just hoping for 1 but you brought extra!
Lots of exclamation marks this week because it was sort of a struggle with eating.

First, there was St. Patty's Day, which was completely under control; I worked out and burned extra, I measured my corned beef much to the chagrin of a family member who called my measuring "ridiculous" but that doesn't bother me. Really. No it doesn't.

Then, came Friday. I was all out of calories for the day when we were headed out for date night, but I went ahead with the beer and the Veggie Patch Pizza at Applebees (oh, you say that 1 entire Veggie Patch Pizza is not a single serving? Oh, just 1/8th of it is? Or 1/6th? Well why didn't you mention that BEFORE I ate the whole thing!? But it can't be that bad, it has VEGGIE in the name! There's spinach! Oh, there are 900 CALORIES IN THE WHOLE THING?)
I went back to a voice I once heard that said, "One meal won't break you."

It won't. It just wont.

I worked out the next day, came under my calories, worked out hard on Sunday and came under calories again and ya know what?
It all equalled out.
Calorie counting is hard.
The choices are hard. Especially when food is everywhere.

Birthday parties are the hardest because everyone in my family equates celebrating with food.

So on Sunday, I ate before I left for a birthday party, said no to the hamburgershotdogsandbeans, said yes to the birthday brownie and went home and ate my own dinner. I came under calories, enjoyed the birthday party (does "celebrating" have to mean eating? No, "celebrating" is when my presents are a HIT and they scramble to open up the boxes of MY presents because MY PRESENTS ROCK! And all they do for the rest of the party is play with MY PRESENTS while their friends OGLE!! Now, that's celebrating.)
In the end of my weekly eating wrap up that this turned out to be, yes I enjoyed that pizza and that one brownie. No more saying "I'm bad" for eating. No more judging myself. Just choices.

Now, the hardest part about calorie counting is when I'm spent on calories and I'm STARVING still. The choice about what's the lowest in calories but the most filling is HARD when I'm blinded by hunger! But then I have a Chobani or a bowl of corn flakes and maybe I go over a few calories, but if I'm STARVING, I'm listening to my body about it.
Alright, enough about eating. (Can you tell I'm still trying to figure this thing out?)
The victories are everywhere in my week: conscious eating decisions, a reversal of an unconscious eating decision, all my workouts plus a great 6 mile run in the HEAT! Standing strong when people think I'm crazy for calorie counting, and in the end, 1.5 pounds closer to in shape for tri season!
Oh, wait! Have I mentioned I'm selling Bondi Bands? It's Bondis for Babies! If you buy one, the money goes to fight prematurity!!! Please check out my
Bondi Bands here
, they're great! (There's 26.2, "Looks like Walking, Feels Like Running," "FOCUS," SHUT UP AND RUN," and many many more!) Thanks to
Deb
for being my first supporter!!!! Love you!
How did you do this week?