Before I start today, I just want to say thank you to everyone who left a kind word on my blog about my little kitty cat who passed away a couple days ago.
I took it pretty hard (actually, I am taking it pretty hard) and all your comments have been like a hug to me, literally, so thank you. I may or may not have responded, but please know I am reading.
This week, I begin officially blogging about my impending trip to Walt Disney World in January 2011 to run my first marathon in my ROAD TO DISNEY! I started training over the summer, but I'm just now getting into the nitty gritty where I'm trying out nutrition, what works, what doesn't, and all those things and things are getting really hard.
The "pitstop Miami" is the half-iron distance triathlon in about 3 weeks that I am also doing,
Miami-Man
, which will be a 1.2 mile swim, 56 mile bike, and a half-marathon (13.1 miles.)
Where I am
Last week was the longest brick I've ever done, somewhere around 40 mile bike ride (2 1/2 hours) followed by a 9 mile run. So, I'm almost there. I was in rough shape afterward, but I did it.
For the marathon training, I am up to 16 miles running. I should be up to 20 but I am a week or two behind in my training schedule, and now I am in a taper for the half-iron, so I'll be back up to the long runs right after the Miami half. I got behind because, well, I just plain ran out of time. With only a couple days in a week in which I can actually find someone to watch the kids for 4 hours consecutively while I train, it doesn't always happen as I plan it. But I'm close.
A lot of people ask me how I have time to train and truthfully the answer is,
I don't.
I truly don't. I am literally picking pulling squeezing in time where I can and it has to be the perfect storm where someone in my life (usually my husband) can spare an entire morning or afternoon while I get in these long training sessions, otherwise, well, I get behind. Like I am. But I'll get there nonetheless.
This weekend I had a sprint tri, the last of the season and I learned and relearned an age-old lesson: NEVER TRY ANYTHING NEW ON RACE DAY.
Like, say, wearing my wetsuit for the first time since April not having worn it all summer. I was like a cat in a sweater. It was awkward, I couldn't breathe, and I became an Olympic backstroker. I backstroked the ENTIRE WAY. Yup.
I still beat last year's time by a good 10 minutes, so that's something. But it wasn't the last sprint tri of the season finale send-off I wanted. I will, however, end the season on a half-iron distance and in that one, I'm just determined to finish strong. I have no time in mind.
After Saturday's tri, I ran 10 miles on Sunday and it felt great. It wasn't the 20 miles I was supposed to run, but I ran out of window. I did, however, find a new appreciation for getting up at 4 a.m. to be out running by 5 with my running partner.
I've never been a "get up in the dark" person. I used to have to do it to be at work at 4 a.m. all the time but I hated it so much and envied all the people who were still in their beds sleeping away soundly and happily. Something changed after kids (along with everything) and now the idea of getting a long run in before the kids even wake up is so much more appealing than missing an entire Saturday or Sunday morning with them because I was off on a long run and I'm getting home around lunchtime and wasting the whole day. Well, not wasting, but you know what I mean.
I think it's called "balance." And ironically, a 4 a.m. wake-up call helps me have it.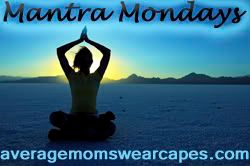 Which is also my mantra for the week. "Balance."
After a couple of weeks of just crazyness where everything is seemingly coming to a head at once, I need to find balance in it all so that I'm not neglecting any one thing and I'm not putting all my eggs in one basket either. It has not been easy and I've just been frazzled now, for weeks.
I must find balance. I must restore balance. And take it with me throughout the week and into the weekend's long training.
What's your mantra for the week? And if you're training for Disney 2011, let me know! If you're sharing your training reports on Mondays, link up in the comments and we can share!