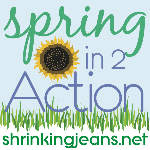 Hooray it is working, my God it is working!
Down 1.5 this week for a total of 3 for the challenge so far!
GO TEAM Sass & Fury!!
I can't help it I really don't like counting and measuring but I really do love
My Fitness Pal
if I am going to have to log! My husband is on it too now so we're both counting calories, which makes things easier for sure.
Here's something I read in Runner's World Magazine this week: Log when and what you eat, but also log
WHERE
you eat it. Is it at the table? At the couch? See where I'm going with it? You could pinpoint a bad habit or be doing what my 4 year old wants to do, which is eat out of boredom and not really hunger.
I never even thought of that but it seems so simple!
Anyway, I did go over my calories Saturday at the Strawberry Festival (what a bugger it was to log that!) and its make-your-own-strawberry-shortcake but I had a ride and a run on Sunday and came well under my calories Sunday too to make up for it.
Workouts last week:
Wednesday: Swim 1500m (
swimsuit blowout
)
Thurs: Workout with Trainer, 4 mile run with group that was faster than me but I just gotta get over myself, right?
Fri: Spin bike 45 mins
Sat: Day off
Sun: 17.5 mile ride (17.5 mph avg) 3 mi run (29 mins)
Mon: 2,000 m swim
Tues: off
Oh yeah and I'm a little behind in 100 pushup challenge but I'm still hanging in there, hitting middle of
week two!
I maxed 20 at the end! Woot!
Goals for week ahead: just keep logging just keep logging just keep logging logging logging...
How are you doing??