Well you already know I
barfed after my long workout
on Sunday. That was a first.
Promptly after that I got goiters the size of softballs in my throat.
We call them goiters but really they're swollen glands and by "we" I mean me and my sister who say, "I got goiters," and we know what we mean.
So now I got goiters. (Boy isn't this a lovely blog post. Who leads off with barf? I do. Twice.)
Apparently after long runs or workouts, your immune system gets really low and you should avoid everyone and everything for up to 72 hours or use hand sanitizer like it's going out of style. Somewhere in that 72 hour window, I got goiters.
So with the goiters, I have an ear infection and it all wants to be bronchitis but I have my antibiotics and I'm taking it easy to nip it before this weekend when I have a sprint triathlon and an 18 mile run. Followed by a kiddie Halloween party at my house and I'm going to be Princess Leia with the cinnamon bun hairdo. Busy weekend. No time for goiters. Definitely no time for bronchitis.
Real quick here, I'll do a quick update on
Shrinkvivor
(the weight-loss challenge going on over at The Sisterhood of the Shrinking Jeans).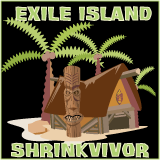 Dom dom dommmmmmm. (Price Is Right "loser" music played here.)
My team was banished last week to Exhile Island for being the lowest percentage of shrinkers.
Wah wahhhhh.
And if it wasn't last week, it would've been this week for me anyway because I am up an unGodly amount this week from 131 last week to 133 which is just crazy because yesterday I was down to 130 and was actually looking at a loss for this week! So how would it be that 3 pounds showed up for me this morning?
I'll give you a guess who showed up bringing those 3 pounds in her backpack. You're welcome. I still don't know why it was 3 POUNDS. She apparently doesn't travel light. I'm not worried. The three pounds will be gone by tomorrow. Ish.
Beyond that, I'd like to give my husband a huge shout out for kicking some serious butt at his first Olympic distance triathlon in a murky lake on Sunday!
Although it does look sort of pretty.
Until the swimmers kick and the splashes are all green and brownish then it's not pretty no more. And just know that there's alligators in there too. Yuck. Better all of them than me!
But he did great! Congratulations honey!
And then my camera failed as he crossed the finish line because I'm that awesome.
Next week, I'll be starting my newest feature called "Road to Disney (with a Pit Stop in Miami)" where I will be writing specifically about my Disney Marathon training each week (and my half-iron training which is really all just more preparation for Disney), from nutrition to hydration and the experimentation heretowith. So if you're ever interested in running a half or a whole marathon, stick around so you can learn from my mistakes!
Have a great day!
ps. I reviewed my favorite people ever,
Girlz N Gear, over at the Sisterhood this week, so go to there
and enter into the giveaway, mkay?