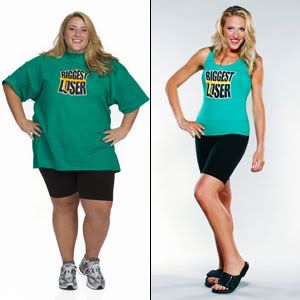 Maybe it's a little too soon in our relationship to be BFF's but I got a chance to chit-chat with
Tara Costa
last week, one of the finalists for
Biggest Loser Season 7
and the at-home winner, and we had so many things in common that I really do think we might be friends in real life if we lived in the same city
and if she didn't think I was creepy for saying that out loud.
You might be wondering what me and
my best friend
Tara Costa talked about but honestly I had so many questions, I kept firing one after the other! I probably could have talked with her all day! I wanted to know about the ranch. I wanted to know about her life battle with obesity. How she overcame it in her mind. I wanted to know if she, like me, had any "rock bottom" moments. What made her keep going.
I wanted to know how it felt to pull a freakin' car. (Remember this? Shera, Princess of Power!)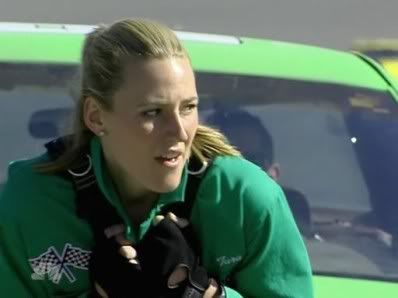 She didn't even seem to mind that I kindasorta called her a "badass" right out of the starting gate.
Friends are cool like that.
Tara has inspired me in so many ways and so many times and yes, I think she's pretty badass. Her mental toughness is amazing, her will is powerful and the idea that you can do anything radiates from her being and spreads from person to person like wildfire.
During season 7, (the one with all my favorites--Helen, Michael, Ron, Daniel) I was about half-way through my own weight-loss journey and I was getting tired of it. I watched her win challenge after challenge after challenge and I felt like I was literally along for that sort of soul-searching ride that someone else is on and all of a sudden one day you see their face light up and you realize they've figured it all out. I, probably like you if you were watching, witnessed that. She inspired me to believe that one day I might get to that place.
Rock Bottom. Everyone Has One.
What struck a chord with me most during our conversation was our talk about "rock bottom." For me, it was a picture of myself at a birthday party holding my 3 month old son.
Because rock bottom moments are the worst. They're heartbreaking. They're necessary. But they become the lowest point in your memory and when you realize you are currently at rock bottom, it hurts in such an unimaginable way because you have no idea where on earth to go from there. They're pivotal in life so I've learned to appreciate them, but it doesn't make them easier.
Tara's rock bottom moment came one night when she went out to a club in New York City for her friend's birthday. They piled out of a cab and her group stood in line waiting to go in. "I'm the last girl walking in, the bouncer closes the red velvet rope and wouldn't let me in, says 'Sorry, we're at capacity,'" she remembered.
"I felt the lump in my throat, holding back the tears," she told me, and then she recanted how she fled in a cab back toward her apartment, making one quick pitstop along the way to pick up her best friend Ben and Jerry's and Milano cookies.
That was it.
She said she caught a glimpse of herself in the mirror with the mascara and the tears running down her face and she looked down at her good old standby comfort foods and she thought, "This is it. This is why I'm fat." And she dumped the cookies and ice cream in the trash after drowning them in water first so she wouldn't go back to them.
She was over 300 pounds at that point. "I realized I really needed help," she said and decided to explore all the options from a trainer and a nutritionist to gastric bypass, lap band surgeries, all of it. Then lo and behold! Within a week and a half she saw an open casting call for The Biggest Loser in New York and well, we all know what happened after that.
Can you believe the timing? Amazing how that happens.
At the ranch, Tara lost 155 pounds. She won nearly every challenge on the ranch, even beating out the men. So I asked her if there was any one point on the ranch where she started to believe in herself and what was that moment like?
She told me there was one moment she remembers where she was by herself around the time of the car pulling episode. When there were a few weeks left of competition, she got up early one morning on a day they weren't taping and she hiked to the top of the mountain at the ranch and as she's standing on the top looking around her and no one was around, she thought, "This is amazing!" And she raised her her hands up in the air and thought, "Look at me now! I did this, I pulled this car, I'm here right now! I'm finally changing my life!" she said.
BACK TO REALITY
When it was time for Tara to head home, she knew she had to figure out how to fit the Biggest Loser life into her real life at home. "From that point, it spanned to 'ok I'm changing my life', how do I keep it up once I leave?" She wanted to be everything to everyone and had always put everyone else first.
Sound familiar?
"I realized now that to be the best for everyone else, I need to be the best for me first." And she thought to herself, "Why can't you believe that you're worth more?"
Because it's true, we just
don't
believe in putting ourselves first. We
don't
believe that we're worth putting first, and on top of it
we don't believe in ourselves enough in general.
I personally don't want to be that way anymore.
My best friend
Tara Costa doesn't want to be that way anymore. Because eventually, it's what gets you to 200 and 300 pounds.
A few months after heading home, Tara ran the New York City marathon which was like closing a chapter of a really long book. Because as she ran it, she passed her old wing joint, Chinese restaurant, her old apartment and all her old haunts, it was all about "letting go of my past," she said.
Since then, she's done a couple of sprint and olympic distance triathlons, one with former Biggest Loser contestants in San Francisco where she won
another
challenge, (even off the ranch! Does her awesomeness ever end?! The answer is no.) by coming in first out of the Biggest Loser contestants and winning a cool 25-grand from Brita. (Nice.)
Next step for Tara? Ironman. Yep. A 140.6. She talks on her blog about riding 100 miles across Long Island like it's nothing, really. I mean, just a leisurely stroll, really, right?
"I want to show people that
you can,
" she says. But I'm pretty sure she's already shown that 100 million times over and you can bet she'll inspire me again in my own quest for a 140.6 (one day. Perhaps?)
Anyway. Thanks, Tara, for the chat. You inspire me.
Ps. Your cape is showing.