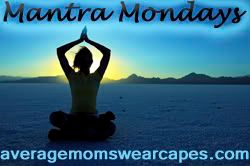 When I first began
Mantra Mondays
at my previous blog, Baby Tea Leaves, it was because I needed to inspire myself. On a daily basis.
I needed to start my week on a good note and I needed find myself a mantra to keep me going. I needed to set myself up for success.
I loved doing Mantra Monday so much and many of you joined me and I loved reading your mantras, they inspired me too. Then, Mantra Monday took a short hiatus, but when some of you e-mailed me about bringing it back, I got all excited like Jojo the idiot circus boy with a pretty new pet! Because I still need all those things, maybe now more than ever. And I believe we need each other to fuel inspiration.
Because inspiration is like a big furnace that needs constant attention and fuel to stay lit. When the inspiration runs out, the fire runs out and it's hard to keep firing up the furnace all on your own. You run low on fuel, you run low on energy, you need partners. You need those little sparks of inspiration to keep that fire lit.
At least I do.
So starting next week, I'm going to bring back Mantra Mondays, won't you join me? Grab a button on the sidebar, post about it and you can link up your entry in the comments so we can visit each other. Your mantra can be anything, from lyrics from a song, to just one word, to movie lines, whatever you can use for whatever purpose you need it for. Starting the week off with a mantra full well knowing what is "planned" ahead for the week can help you face whatever you're about to face head on. And then a little extra when life throws something unexpected at you.
Hope to see you next week and each Monday after! Happy Mantra Monday!