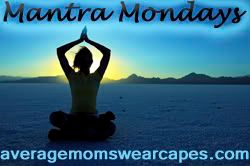 Time to get all cheesed-out 80's style for a Mantra Monday! (Big hair? Check. Leggings? Check. Blue eyeshadow? Check.)
When I was in high school, we voted for our class song to be "Right Now," by Van Halen (this is 1993 in my senior year. So technically not 80's but it all still felt very 80's and looked like it, if you saw my senior picture you would agree.) However, our school administration voted it down because it was "Van Halen" which in hindsight sounds ridiculous to me, I mean what's wrong with Van Halen? And instead we ended up with "A Whole New World," from the Disney movie, "Aladdin."
Nice. That's a close second. *sarcasm.*
But "Right Now" has always been one of my favorite songs and it has been completely out of my consciousness for years now but it's shown up twice now in recent spin classes and I can't get it out of my head.
It's one of those songs that makes me push harder. That makes me go longer. And that makes me never ever want to stop.
Do you remember the song?
"Right now, it's your tomorrow.
Right now! C'mon, it's everything.
Catch a magic moment, do it
Right here and now.
It means everything."
Right now:
is a great song to sing while I'm swimming or when I need quick feet.
Right now:
definitely
is
my tomorrow, I no longer believe in starting things "on Mondays." It's either right now or bust.
When I think about it
right now:
I think about the more than 20,000 people who are training for the
Disney Marathon
in January, probably
right now.
Right now:
Thousands of people are also training for the
Miami-Man half-iron distance triathlon
in November. Which I'm also doing.
Which means, in sum, if
I'm not
training
right now,
there are more than 30-thousand
other
people who are and who are all going to pass my ass if I choose not to be one of those people training,
right now.
I don't really need that donut
right now.
Right now:
I blog a few days in advance so I can spend more time in the moment, like
right now
.
Right now
: spending more time in the moment gives me more stories to write about later, like I'm doing
right now
.
And having finished up a 10 mile run on the weekend and some intervals on Sunday,
right now
it is my off-day so I can rest for another
right now
moment which will come tomorrow (and which sounds a bit ironic actually) because I know I'll be faced with one of those moments where I'll have to choose to go train and that's not always the easiest thing to do. So I will have to think about the aforementioned thousands of people who are choosing
right now
and so I will too.
But
right now,
I will close this computer to spend more time living in the moment
right now.
Just me and my husband. While the kids are napping.
What's your mantra? Grab a button on my sidebar, post about it and share it here on Mondays!