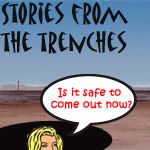 There is something about motherhood with toddlers that sometimes makes me wanna cower inwardly.
Most of the time I feel like we're a peaceful bunch, working together as a team, trying to co-exist peacefully. But then there are times where I, like my alter ego up there in the picture, wants to hide in a hole until the storm passes.
I think it has something to do with how quickly things can change. How the climate of one second can be shiny, happy and sunny, and then the next second, the world suddenly collapses underneath a torrential downpour and you're sweating and trying to put out the flames peacefully and calmly, without turning into the outward wreck that you already are on the inside. It is then that I wish there were a hole handy. I could just jump in, deflect the disapproving glances of the other parents and wait till the tantrums are over, come out, straighten up my clothes and head on out to face the world again.
Like, for instance, my very favorite 10 minutes after swim lessons. That 10 minutes between finishing up swim lessons, but before we get in the car.
I want to know, no, I demand to know: WHY is this particular 10 minutes, when we are in the locker room getting the chlorine showered off and changing clothes, always the worst 10 minutes OF OUR LIVES?

What is it about that specific 10 minutes that makes them completely unable to function as humans and forget how to clothe themselves or even stand up on two feet or communicate using actual words? During this 10 minutes, they collapse into complete nubs with no ability to function whatsoever. It's the great "10 minutes after swim lessons mystery."
Because while I'm showering one off (and sweating profusely because it's so hot in there and I'm trying to go quickly because remember this is the worst 10 minutes ever), the other one is stripping down and flailing his "parts" from side to side yelling, "Mommy! Yook at me!" And then proceeding to open up the curtain and run out of our little shower area and all I can hear is the handsfree hand-dryer going on and off, on and off, on and off. Meantime, the one I'm trying to shower no longer wants to stand, and you know how gross that floor is but he's flopping all over it anyway. So I'm saying, "Let's hurry! Stand UP!" and I'm trying to rinse him off with water that is barely spraying out of the showerhead and then finally we get him showered off, but it's hot so even though I'm drying him off, he's now sweating and I'm putting on his clothes but they're all sticky and won't go on.
And then, I have to go for round two.
I get the nakey one who's all slimey and slippery and I start showering him, but meantime, the system starts breaking down for the other one who starts rifling through my bag and yelling about how he wants his "SNACKS! NOW!" And now he's squealing and getting angry because apparently one more second without food is too much for him and this is causing him a terrible amount of distress. And things turn into a disaster. I'm calmly asking him to be patient while I shower the other one who is squirming and wants to be done already but he has soap stuck in his ginormous coiff that desperately needs a cut and then we finally get finished and we dry up and by now I'm sweating profusely. I feel like I have been through the mill.

Now I need a shower from the sweat alone.

And it feels like all the other moms are getting through this process gracefully and are finished already while I am just a big giant sweaty mess. We close down the place. Everyone is gone by the time we get finished.
Then we leave this sweathouse all showered and dry(ish) and I am frazzled and of course the kids are happy as clams as if nothing ever even happened. They have somehow snapped right back into their old normal selves.
The end.
And the thing is, it's so convenient to be all showered off and fresh so quickly after swim lessons! If I go through this whole process, then I don't have to worry about bathtime later, they're already nice and clean!
But my GOSH, that 10 minutes...
Sometime during our 8 weeks of swim lessons, I had at least learned enough to bring a buttload of snacks for that 10 minutes to try and keep them happy during the shower times, but by the last couple lessons, I stopped caring about the shower at all.
I raised my white flag, stuck a towel on their carseats and called it a day.
Sometimes you just have to.