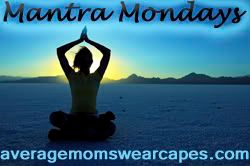 Well it's time for a Mantra Monday and time to bring on the week ahead.
Only I'm feeling less, "Bring it on!" than "Eh, ok, let's bring it on... shall we?" in more of a "let's get this thing over with" sorta way.
Not very aggressive.
It seems like I have several great weeks in a row and then I have a frustrating one. But that's normal right?
I guess I'm just disappointed.
I thought I was going really fast in
the race
, I thought I was kicking some butt, and then when I crossed the finish line and got my time, turns out I didn't. Um, not at all in fact.
Wah wahhhh (that's my Debbie Downer sound.)
Yeah, I'm whining a little bit about it. Because I thought I came so far! I thought I was swimming like a shark!
Sigh.
So this is the week where I regroup.
Maybe that's the word I need this week: "regroup."
Ya know how you do a lot of stuff and you're doing really well and making breakthroughs and then all of a sudden you go through a test and you find out you're not as awesome as you think you are and then you feel frustrated and instead of working on the stuff you know you need to work on you feel like giving up and saying, "Well then what the heck am I doing this for anyway?"
?
Yeah, it's taking me all I have to not
do that.
Because I want to.
I feel like I face this feeling every other month.
I mean, why
is this
so important anyway?
I was talking to a friend yesterday and we were talking about the things we see during training.
The beautiful sunrises, the dolphins in the water along the causeway, the feeling of the wind on your face and the water on your skin. The adrenaline, the endorphines, the
feeling of life pumping through your veins.
It's really not about the race and the numbers in the end.
The reason I do it is because of the way it makes me feel when I'm doing it. What I see when I'm doing it. The way it makes me feel like I'm
living
and not letting life just pass me by. The rush and the push and answer to my question, "Can I do this?"
I get caught up in "doing it well" as opposed to "doing it" and sometimes just "doing it" isn't enough, I want more. Like everyone, eventually "good" is not "good enough." But whose definition of "good enough" am I using? The numbers on the board when I check my times and compare myself to everyone else? Or my
own
definition?
Because I had victories in
that race
even though the numbers might not say so.
The numbers don't tell the story of the race like I felt it.
So now, simply, it's just time to regroup.
Then dig in and push a little more.
But most of all, remember when I'm doing it,
why
I'm doing.
Because it's simply not just about the numbers.
* * *
What's YOUR mantra this week?
Leave it in the comments or blog about it and link up here!
Ps. Have you seen my
Sigg Water Bottle giveaway
? Going on right now, go to there!