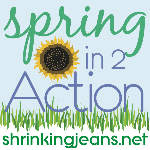 The Sisterhood of the Shrinking Jeans
, my favorite place in the world for free online weight-loss challenges and support is hosting a brand new challenge and it starts today! It's not too late to join! We're pairing up in teams of two so go grab a buddy and
sign up here
!
We are also doing the 100 pushup challenge! I started it a while back and it quickly fizzled but not this time! I'm at it again! So you might even see some more vlogs from me.
I paired up with my good online buddy Beki, from
Wild Child Gone Good
and our team name is Sass and Fury.
We're going to kick some butt this challenge. We are in the exact same boat, have the same amount to lose and both need a swift kick in the rear for some motivation, so I am hoping we can provide that support for each other.
My tri training is fully under way again and I am counting calories at
My Fitness Pal
. It says I should be eating just under 1300 calories a day. I get hungry just typing that.
You can see my handy dandy little helper at the top, I want to lose 12 pounds (10 would be good) in time for St. Anthony's on May 1st. 8 pounds would be fine too. Into the new decade is really what I'd like, the last few will come off as the season gets underway.
I'm also about to embark on spreadsheetorama so I can check off my workouts in an organized manner. I am already meal planning so that's a plus. And because all of this will be a matter of choices and making choices and all of the circumstances surrounding those choices can change moment by moment, we're also playing a little support game over at the Sisterhood through Twitter for the month of March. Go read
about it here and play along
!
Have a great day! Good luck to everyone on this challenge! Moment by Moment!