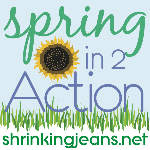 Well what do you know!? Calorie counting works!
I am down 1.5 pounds in the first week of the Spring In 2 Action Challenge, hooray!!! Go Team Sass & Fury! And there was a LOT of sweat in that 1.5 pounds, let me tell you.
The main difference?
http://www.myfitnesspal.com/
. Thank you MY FITNESS PAL! My lovely
teammate Beki
is also logging at My Fitness Pal and it's great to be able to cheer each other on. (My user name is christieo_7 so if you are on there, let's be friends!)
There is also a lovely free app for my new (large and complicated) phone. And the app is a life-saver. It even had the naked tenders from Buffalo Wild Wings already in it so I could get something after our
date night swim
without falling off track, so it is FILLED with a great database.
Here's my biggest problem with calorie counting: I never really know how much I should be eating. I
calculate the calories
I'm supposed to eat. But when I work out, I never know how much I should be eating on top of that or if my calorie intake should change.
I never lost weight with traditional calorie counting because I could never get the numbers right. Too many calories or too few calories, I would do one or the other and stay right where I was at. But... My Fitness Pal fixes that. You add in the exercises, it adjusts the calories.
And for someone who was not in math club or who did not run the concession stand in high school like my husband, the math geek who appreciates and celebrates Pi Day (March 14, ya know, 3.14...) that is what I need.
So my calories every day are 1200 (Gah, I want to eat my arm off just thinking about that.) However, I exercised every day except this past Monday which I had to take off, so I got to eat a lot more than that. And what do you know, it worked! I almost wanted to work out on Monday just to be able to eat more!
But exercise-wise my training last week was:
Wednesday: Run 3 Miles
Thurs: Trainer Workout 1 hour, Cycle 16-20 mph 1 hour (burned 1,300 cals this day!)
Fri: 1500m Swim (
date night
)
Sat: Run 4 miles,100 pushup challenge day 1
Sun: Spin Class 1 hour, Run 3 Miles (brick)
Mon: Off -- 100 pushup challenge day 2
Tues: Tempo Run 3.5 miles
Weds: Swim 1,500m + strength + 100 pushup challenge day 3, end week one.
The next week looks the same except the run mileage gets upped a little and there should be an ocean swim on Sunday!
After today, I'll be on week 2 of the
100 Pushup Challenge
and to be perfectly honest, that one scares me! The numbers jump a lot! Shouldn't it get scary in week 4 or 5? I started the challenge last week and my initial test was 17 pushups, so I started on level 3 for week one. And week one had me doing about 50 pushups, not in a row but in the whole set and I was pretty proud of myself for being able to complete that. But we'll see how week 2 goes!
It was a great week. It takes a lot of work, I mean constant. The meal planning, calculating and choices, the needing of support from things that constantly try to derail me (#mbm!!!).
But it was worth every minute.
I really, really needed this victory.