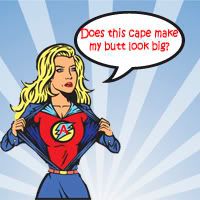 I have a fantasy.
Please don't laugh.
It's about Demi Moore.
I have this fantasy of one day doing a one-armed pushup.
I know.
Even "saying" that out loud crossed out sounds a little ludicrous to me. But there was something so pivotal about her one-armed pushup scene in GI Jane, like that one-armed pushup
meant something.
It was more than the pushup. It was about her conquering that world, the one she was not invited into, and it was about her conquering herself.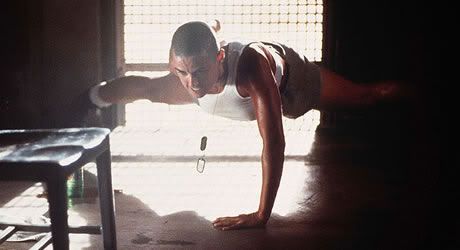 And I want a one-armed pushup in my life.

So hey. My life is just a tad bit different from GI Jane's. So what? So I'm not almost drowning every day in training and being tortured by male GI's because I want to be part of their world. So my life is instead filled with tiny GI's and I am struggling to fit into their world. That's a sort of boot camp, right? I think so.
Anyway, I mean, look at her! It's RIDICULOUS!
I also have a fantasy about shaving my head but that's another story and my husband will have none of that. But if I ever, ever find myself in the position of being able to do a one-armed pushup, you best believe I might entertain the idea of shaving my head in celebration. My luck, I'd have a lumpy head.
I don't expect to be able to do a one-armed push-up anytime soon (still got some of that "wave flab" going on here) and in fact, it might be years until I can ever do one. I'm ok with that. But it's on the bucket list. And we only live once.
So since you have to have a plan and I'm all about plans, I'm issuing a smaller challenge.
It's about pushups. Not the kind that has to do with a bra (although I could really use one of those). The way I see it, it's a long road to the one-armed push up and it's paved with regular push ups. And let me preface this by saying
I can barely do 10.
This is going to be a really, really long road.
But
I figure I should probably be able to do more if I'm ever to try the one-armed kind. So, I'm taking the
100 PUSHUP CHALLENGE
!
I can't even believe I'm saying it out loud. My husband and I are doing this. I invite you to just
try it.
It's a 6 week plan but it takes less than 30 minutes a week! That's like less than 5 minutes a day! (Are you sold yet?) I will just add it onto the tail end of my workouts, how bout you?
I will have a few vlog reports where I embarrass myself and crash to the ground in a heap on the floor I'm sure and we can check in here and if you choose to blog about it, you can leave your link and/or update in the comments. If you drop out halfway through because it turns out this thing is all sorts of crazy, please do tell because I'd love to know. Or you can just follow my personal journey through pushups here.
I'm going to post my very first pushup workout here next Wednesday (which means I will technically begin the challenge myself next Tuesday). If you want to do it too, you can start here with the
initial test
, where they tell you where to start.

So, I'm going to take the rest of the week off now and rest up for my big pushup ceremony next Tuesday. I need a nap just thinking about it.