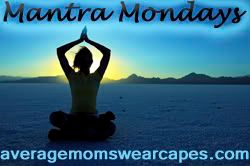 I am in serious need of some mental strength.
Today, maybe even as you read this, I will be sitting somewhere, talking to someone and completely out of my comfort zone.
I must remember to "be strong."
I don't like "situations." They make me uncomfortable and they stress me out. I've been stressed out all weekend.
I wish the roads could be paved with candy and the skies could rain gumdrops and every day could be one giant smile and we could all dole out hugs instead of the uncomfortableness that life sometimes offers up.
Time to put my cape on.
I'll pretend I'm standing at the water's edge, waiting for that horn to blow and I'll just do my best to stay calm and finish strong.
Motherhood is like an endurance race sometimes, isn't it? You're standing there sometimes freaking out and feeling like you have no clue what you're doing and what you've gotten yourself into.
But you have to stand back and trust in yourself, know that you're doing the best you can and be confident and remember to
breathe.
And you have to know that there will be highs and lows and ups and downs and times where you'll wonder whether or not you're doing the right thing and times that you feel like giving up, but you don't, you keep going, you do what you do and you do it
hard and with conviction
and then eventually you see what it's all been for.
So that's what today is about for me.
And then when today is over, I will need the mental strength to get through the next couple of weeks of training.
I'm into the nitty gritty already and I didn't even realize it. I have a 12 mile run this week, next week my long workout is a 30mile ride followed immediately by an 8 mile run, the following week the long workout is a 14 mile run, the next week is a 40 mile ride followed by an 8 mile run, I saw this all on the schedule and realized that the "go-time" is upon me. I've never done
any of this before EVER.
Before seeing it on the schedule, I'd never even have
conceived of it.
Sometimes when you sign up for something you don't realize what it really means. What it's going to entail. What you are really going to face. I type this as my legs throb from yesterday's 25 mile ride followed by a 6 mile run and I preview the schedule to come.
What have I gotten myself into?
I'll need to be strong. To prepare myself mentally and to get myself into some sort of a zone and just
be strong. I've changed my necklace from discipline to "strength."
I can do this.
Right?
It's amazing how life and training are such parallels right now.
* * *
What's your mantra? Share it in the comments or grab a button, go post about it and share your link in the comments! Have a wonderful week!