Today I'm reviewing my own stuff!
I have an etsy shop and I just sort of fell into it because it turns out I'm pretty passionate about it. It's called
Inspire Me, Chic
. (You can find it up there on my
header bar up there
, too.)
One day (ok, there were many days) I needed discipline. I need a reminder to myself that I was training for something and that I couldn't miss workouts and I didn't really need that burger.
I also really wanted something to wear that wouldn't die when I worked out.
And that would match with everything.
Like, a tutu:
Whatever I train in: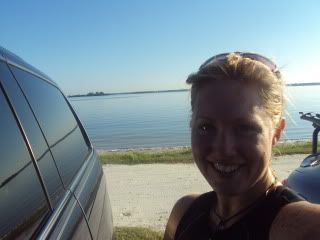 And stuff I like to wear to go out in (like with wine involved)
And that I'd never have to take off because I'm super lazy about that stuff.
So I found me some "discipline" in the form of an affirmation ring and figured out that if I put it all nice on a leather necklace with a clasp, it would work out quite nice for me and look pretty cute, too and last forever and ever (or at least close). In fact, I found "focus" and "strength" and "courage," and I found cute little charms that say things like "I need more cowbell." And they do all of the above.
And it became a thing. I love making these necklaces, but most of all, I love what they actually do for me, which is to remind me of what I really am needing at the moment and it really does that for me. Truly.
I think they work for everyone and there is a message for every occasion and they work perfect as gifts for graduation, for motherhood, for someone who's training, studying, grieving, celebrating, or for no reason at all. Each necklace is nicely wrapped in a purple organza pouch and I'll include a note to your recipient (no charge) if you message me about it.
I have quite a few to choose from so today I'm giving one away to one of you! All you have to do is leave a comment below with which one you like or even which message you'd like to see because there is a very good likelihood I have it and have not posted it. (I have way more than the picture, so make sure you go to the
shop
and look around! For a second entry, tweet about the giveaway.
Two entries! Please leave a comment for each. Contest will end Friday, August 20th at 8 p.m. ET. and I'll announce the winner on Saturday. And then, when the contest is over, I'll do free shipping for a week after that (you just have to make sure you message me so I can deduct it before you pay!)